Our Services
Farm Drainage Tile
Our entire goal when installing new drain tile or adding to a existing system is to remove the excess water from the subsoil. The most effective method of removing subsurface water is to install a quality drain tile system with precise grade control and a well planned design.
When beginning your project we always start with a few questions. We want to make sure the planning phase goes as smooth as possible. We offer drain tile design, project management, and installation of the drain tile. We can also excavate old tile, repair or add to existing systems.
Be sure to get an estimate today. Fill in the form (left) and we will get back to you as soon as we can about your project.
Our Plow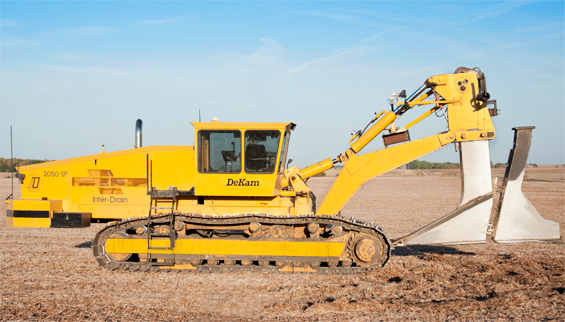 Machine: plow - this is how we install your drain tile.
Drain System - Designed by DeKam Construction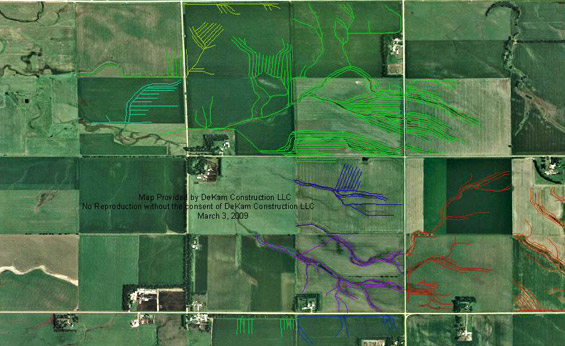 This is a sample of a DeKam Construction tile design. Shown to illustrate how complex some drain tile systems can get, thus the importance of proper project management.
Other Services
General Contracting: we have completed several waterway and dirt work projects
Pond Digging/Filling
Tree Removal
Water Systems: we have installed rural water on 20 different systems.
Sewer Systems: placed forced sewer mains in on 2 different projects.
For further information about our services, or our service area, please: contact us »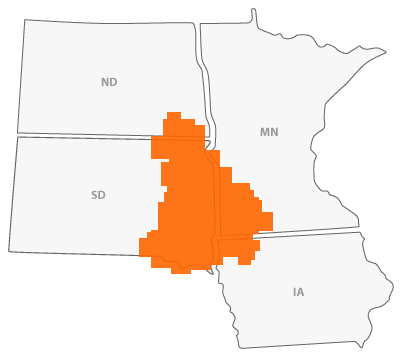 Frequently Asked Questions (FAQ)
Q: How fast will I see a return on my investment?
A: It will depend on numerous factors, but in some cases a 100% return in the first year. On average we see a 5 year return on investment.
Q: How quick will we have the optimal soil conditions?
A: Soil conditions depend on the moisture co-efficient of the soil. It will also depend on the spacing of the tile; however, results will usually begin within 3 days time.
Q: How big of a pipe (tile) can you install?
A: We can excavate up to 24" (inch) drain tile, and can plow up to a 12" (inch) tile.